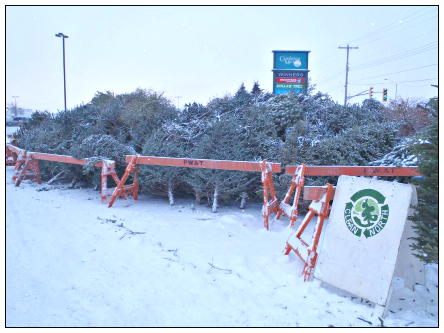 It's not too late to take your Christmas tree to the northwest corner of the Cambrian Mall parking lot for recycling! We are collecting the following items for re-use and/or recycling:
Real Christmas trees and branches
Clean white packing styrofoam
Books and magazines in good condition for resale by the Friends of the Library
Blankets and towels for the Humane Society
Clean North volunteers are at the depot daily, mainly in the afternoon, through Saturday, January 13.  The depot is open 24/7 for drop offs. If no volunteers are around when you visit, please put your tree on/by the pile of trees and place any styrofoam, books, and blankets/towels in the on-site covered walk-in red container.
Can you help us out by volunteering to help at the collection depot? Please contact us at (705)945-1573 (leave a message) or info@cleannorth.org.
Oh…and if you need garden mulch, tree chipping will take place Sunday, January 14 starting at 8 a.m. Mulch will be available to the public at about 9:30 a.m.