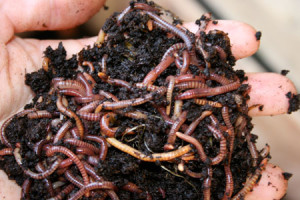 On Wednesday, January 28, Clean North volunteer Don McGorman will be leading a hands-on workshop on worm composting at Mill Market in Sault Ste. Marie. Drop-in any time between 4 and 6 pm to check out the live worms and learn how easy it is to compost indoors year round.
Don will give an informal talk at 5 pm and is available for questions all afternoon. This event is FREE and is suitable for all ages. Kids loves worms, so grab them and head over to Mill Market on the 28th!
So what is worm composting? With this form of composting, you use worms to recycle your food scraps and other organic material into a valuable soil amendment. This nutrient-rich material is like black gold for your garden!
Composting food scraps and other organic material also helps reduce the amount of trash going into our local landfill.