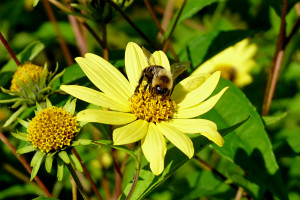 The 4th annual RAIN Agriculture & Food Symposium will be held in Bruce Mines on February 7, 2015 and will focus on pollinators.
This event will interest to farmers, gardeners and beekeepers and will provide an opportunity to connect the agriculture community while bringing in speakers such as Susan Chan, a pollination biologist with Farms at Work.
Local speakers include David Kreutzweiser of Natural Resources Canada and Mary Eaton of the Algoma Beekeepers' Association. David will discuss risks of using systemic insecticides, neonicotinoids and fipronil to pollinators and potential alternatives. Mary will share a history of beekeeping in Algoma and with local student Jordan Winter will discuss strategies for overwintering honey bees in the North.
The workshop is open to the public. Tickets are $20 and available at the door (cash only). A light breakfast and lunch are included.
Registration is also available online through Eventbrite, or by contacting Katie at kfilion@ssmic.com, (705)942-7927, ext. 3024.