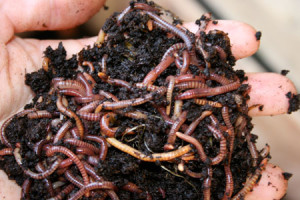 Clean North will be bringing our indoor worm composting demonstration to the 2014 Green Expo being held this coming Saturday July 26, 2014 from 9 am until 3 pm at the Johnson Township Community Centre in Desbarats.
There will be a hands-on worm sorting activity open to children of all ages. Clean North volunteers will be available to answer your questions about the basics of worm composting, and anyone wishing to start their own worm composter will have an opportunity to acquire worms.
The theme of Green Expo 2014 is Steps to Sustainability; attendees and vendors will be invited to share the steps they are taking to become more environmentally sustainable. The Expo will feature a pancake breakfast, interactive exhibitors, artists such as Doug Hook, activities for adults and children including archery, and the Johnson Farmer's Market. Childrens` activities will include Gerald's Reptiles, Perfectly Painted Faces. and a scavenger hunt courtesy of the Junior Explorers, a new environmental education and outdoor appreciation program.
For more information, check out the news release found here or contact the Kensington Conservancy at (705)782-2200 or green2014expo@gmail.com.
You can also visit the Green Expo 2014 on Facebook.